October 05, 2010
New bill would offer whistle-blower protections, training for nursing home surveyors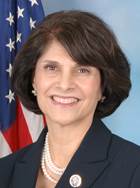 Rep. Lucille Roybal-Allard (D-CA)
Recently introduced legislation would extend whistle-blower protections and training to surveyors of nursing homes.
Rep. Lucille Roybal-Allard (D-CA) is the chief sponsor of the Nursing Home Patient Protection & Standards Act (H.R. 6261). Citing a Government Accountability Report from November 2009, Roybal-Allard argues that nursing home surveyors are under pressure to "under-report" problems discovered at nursing homes.
"The GAO found that state legislators, industry representatives and other groups put pressure on these surveyors and in some cases compromise the entire nursing home inspection process," she said. "This is unacceptable."
The bill, which was submitted to the House Committee on Ways and Means on Wednesday, also would improve staffing for survey teams and establish an advisory committee comprised of nursing home stakeholders to focus on improving the quality of nursing home care.