January 18, 2016
Mortality risk doubles for SNF residents readmitted to hospital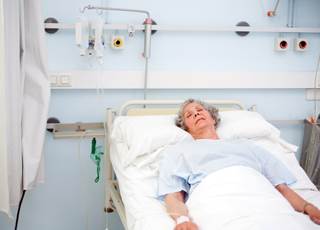 Patients who require advanced care or an invasive device are more likely to be readmitted to a hospital
Skilled nursing facility residents who are readmitted to the hospital are twice as likely to die in the 30 days following hospital discharge than those who stayed in the SNF, according to a new study.
The study, conducted by the University of Colorado School of Medicine, reviewed more than 3,200 cases of patients whose hospitalizations were followed by stays in a skilled nursing facility. Researchers found that mortality rates soared for patients who were readmitted to the hospital, with risk of mortality within 30 days of discharge doubling for readmitted patients. Readmitted patients were four times as likely to die within 100 days of hospital discharge.
The most common risk factors for readmission were patients who needed an invasive device like a catheter or feeding tube, and those requiring advanced care like dialysis or oxygen therapy. For-profit skilled nursing facilities also saw higher rates of readmission.
The study's authors noted that payment systems may also be a driver behind hospital readmissions.
"Under a prospective payment system, hospitals are incentivized to discharge these patients as early as possible, and in contrast to discharges home, hospitals are not currently penalized for readmissions from PAC facilities," wrote lead author Robert Burke, M.D., "PAC facilities may be substituting for prolonged hospital care in some cases."
The study recommends better coordination between hospitals and skilled nursing facility, as well as a focus on patient selection and care transitions, to reduce readmission and mortality rates.
Results of the study appear in the January issue of JAMDA, the Journal of Post-Acute and Long Term Care Medicine.