September 29, 2015
Morning Pointe Alzheimer's care garners Gold Award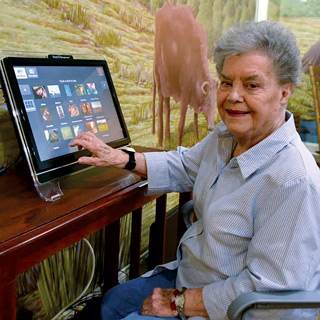 Morning Pointe scored Gold with its Meaningful Day program and use of SimpleC
Morning Pointe Assisted Living, which operates 24 assisted living and memory care communities in the Southeastern U.S., met the demand for better Alzheimer's care programs with the development of Meaningful Day, a structured enrichment program is built around residents' biological rhythms and predictability.
The company scored the Gold Award in the McKnight's Excellence in Technology Awards in the High Tech/High Touch category for its use of technology to enrich its Alzheimer's and dementia programs. The program is sponsored by The Worx Hub by Dude Solutions.
Meaningful Day, when partnered with technology platform SimpleC, improved Morning Pointe's staff-resident interaction, gave each resident a personalized program of care and helped residents' loved ones become more involved with their care.
Morning Pointe CEO and President Greg A. Vital stresses the importance between care providers and technology companies like SimpleC, which "allows us as senior healthcare providers to be leaders in delivering services for people with Alzheimer's."
"We are pleased that our industry peers have chosen us as representatives of these types of collaborative efforts."
Signature HealthCARE of Fentress County, of Jamestown, TN, earned the Silver for its use of ReadyMD, a video-based telehealth technology. ReadyMD has had a "profound" impact on residents, their families and the facility itself, according to Signature officials.
Alliance Nursing and Rehabilitation Center in El Monte, CA, took home Bronze for its implementation of an electronic medical record system that uses touch screen devices to make patient data accessible from anywhere in the facility.
Certificates of Merit were awarded to Signature HealthCARE, Trilogy Health Services and Elim Care Inc. Signature was awarded for its use of the SharePoint-based Stracker system, which tracks spirituality-centric meetings between chaplains, residents and their families.
Trilogy earned a certificate with LifeShare, a program that connects residents and their families to campus happenings, throughout its dozens of facilities. Elim Care's website, elimcare.org, impressed judges for helping keep residents' loved ones in touch with activities taking place at the facility.
Winners were announced in the Transitions category Monday and Dignity on Tuesday.