February 01, 2013
More vendors at CES highlight health and wellness options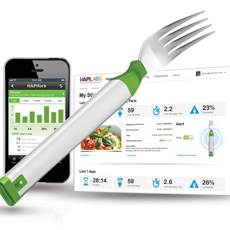 More vendors at CES highlight health and wellness options
The number of digital health exhibitors at January's CES show in Las Vegas was up 25% this year, according to event organizers.
Many vendors debuted or launched fitness- and health-related devices at CES for the first time. Among the notable new entries were Beam Brush's app-enabled toothbrush and the headline-grabbing HAPIfork, which helps people monitor how many bites they eat.
Longtime health device companies such as Withings, Fitbit and iHealth all had conspicuous booths this year. Withings, which began as a WiFi-connected scale company, has added an activity tracker. iHealth, which started as an iOS device-enabled blood pressure cuff company, unveiled a smartphone-enabled blood glucose monitor and a pulse oximeter for 2013.
More than 215 health- and fitness-related exhibitors were on hand this year. Collectively they displayed a wide variety of gadgets and apps that help users keep better track of caloric intake, retrieve their medical histories, coordinate care with providers and doctors, or set up exercise regimens.
Besides the mHealth exhibits, CES was also home to the Digital Health Summit.
Fitness technology has ex-panded to include mHealth solutions. mHealth generally encompasses services and gadgets that integrate mobile devices into medicine and public health services. One example is Ideal Life, which provides a remote health management system that can show updates in real-time. Users can also track pulse and blood oxygen levels with Masimo's iSpO2, and measure or track brain-wave activity with InteraXon's Muse headset.
With products ranging from electronic bicycles and treadmill desks to smart forks and personal environment monitors, there is plenty happening on the hardware side. Most of these focus on a hardware device — often paired with an app or Web service — that collects data on physiology and habits.