January 14, 2016
More therapy increases the likelihood of SNF discharge: Ivy League study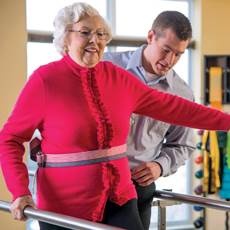 One extra therapy hour per week may benefit hip fracture patients
Increasing the level of therapy for skilled nursing residents recovering from hip fractures may also increase their chances of being discharged, according to a new study.
The first-of-its-kind study, conducted by researchers at Cornell, Brown and Harvard universities, analyzed the impact of one extra therapy hour per week in over 480,000 hip fracture patients who were enrolled in Medicare between 2000 and 2009.
Results found that patients who received the additional hour of therapy were 3.1% more likely to leave the facility for their home than those who didn't. The study's findings applied only to relatively healthy patients, researchers noted. Patients with the highest levels of impairment are unlikely to benefit from additional therapy.
"There's an assumption that additional therapy being provided in skilled nursing facilities does not improve patient outcomes, but there isn't a strong evidence-base," wrote lead researcher Hye-Young Jung, Ph.D.
The study's primary purpose was to fill that evidence gap, and encourage legislators to consider the benefits before pursuing programs that cut the amount of therapy services provided to residents, Jung wrote.
"There are a lot of policy changes taking place because of the Affordable Care Act, and through bundled payments, policymakers are trying to reduce costs," Jung wrote. "That's good — we should definitely look into how to reduce costs for post-acute care — but let's be careful when coming up with the policy."
The results of the study appear in the January issue of Physical Therapy.
Increased therapy levels have recently been a hot topic in post-acute care, with the Wall Street Journal being highly critical of Ultra High therapy billing levels, and large providers such as Kindred, SavaSeniorCare and HCR ManorCare facing lawsuits claiming they gave residents, or simply billed for, higher levels of therapy than needed.
This past fall, the Department of Health and Human Services Office of Inspector General called for a crackdown on exploitative providers who overbilled for therapy. The issue was also named as a target in the OIG's 2016 Work Plan.