April 05, 2017
More targeted Medicare claims reviews coming, former agency examiner says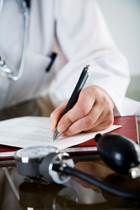 More targeted Medicare claims reviews coming, former agency examiner says
ST. LOUIS — An evolving Medicare integrity program and improved data analytics will put providers on the receiving end of more targeted claims reviews, one industry expert warned on Tuesday.
That increased scrutiny means providers would be wise to beef up their documentation and ensure they're responding to additional development requests with timely, sufficient document packets, according to Jaclyn Warshauer, PT, national clinical director for Aegis Therapies. She spoke Tuesday during the American College of Health Care Administrators' annual convocation in St. Louis.
Prior to joining Aegis, Warshauer worked for Medicare as a medical reviewer.
"Over the years, documentation requirements keep going up and up, what used to be OK for documentation 10, 15, 20 years ago is not sufficing anymore," Warshauer said. "You have to write smarter. I want smart documentation. That's really key."
For providers who receive an ADR, Warshauer stressed that while the request isn't a denial, following the submission process is crucial to avoiding a denial down the line. The four keys to compiling a successful ADR packet are making sure it's complete, legible and timely, and follows a logical order, she said.
"The bottom line is do it right the first time," Warshauer said. "Make sure it's orderly."
Warshauer also advised having a "key person" to coordinate putting ADR packets together, to "put pressure on everybody to make sure they meet that deadline," and to keep an exact copy of the packet on file in the event that a dispute arises.
For providers who still get a denial despite their ADR packet, Warshauer suggests working to fully understand why the denial happened and what exactly they're appealing, and proceeding with the appeals process despite the typically dismal results from the redetermination and reconsideration stages.
"Is it worth going to the [administrative law judge] level? Yes." Warshauer said. "The bottom line is you have a much better shot at the ALJ level."
ACHCA's 51st Annual Convocation and Exposition concludes Wednesday.