July 09, 2010
More Medicare Part D rebate checks are in the mail, Sebelius says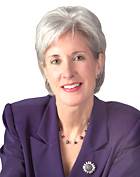 Department of Health and Human Services Secretary Kathleen Sebelius
Health and Human Services Secretary Kathleen Sebelius discussed the next round of Medicare Part D rebate checks for seniors this week at a Seniors Forum in New Hampshire.
The next round of $250 rebate checks for seniors who have confronted the Medicare Port D coverage gap have been sent, Sebelius announced at the forum in Manchester, NH. This batch is expected to reach roughly 300,000 seniors who fell into the coverage gap during the second quarter of 2010. Seniors who are enrolled in a qualified retiree prescription drug plan, or who qualify for Medicare Extra Help, will not receive the checks, according to a press release from the Department of Health and Human Services.
Sebelius, along with local officials, also talked about the new healthcare reform law will lead to the closing of the coverage gap. In 2011, seniors who fall into the gap will receive a 50% discount on their brand name prescription drugs, Sebelius said.