September 01, 2012
Mild exercise may aid mood for heart-condition patients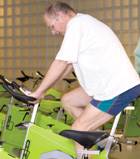 Mild exercise may aid mood for heart-condition patients

New research reveals that moderate exercise can help relieve symptoms in those who have congestive heart failure and subsequent depression.

Up to 40% of those with CHF become depressed. Physicians have been reluctant to prescribe an exercise regimen for heart failure patients due to a lack of research about safety, lead investigator James A. Blumenthal, Ph.D., told the New York Times. Patients and caregivers may have similar fears.

"But I think for a lot of patients in this study, they felt like they were doing something positive for themselves, and they had an enhanced sense of self-confidence. They could do more, they increased their strength and stamina," Blumenthal explained.

Experts say that depression combined with heart failure is linked to an increased risk for adverse outcomes. Both disorders are prevalent in nursing home residents.

Blumenthal's Duke University study followed 2,322 congestive heart failure patients and found that participants assigned to an exercise program experienced a greater reduction of depressive symptoms after three months than those who did not exercise.

The exercise program included 90 to 120 minutes of moderate aerobic exercise per week. Participants primarily used treadmills and stationary bikes, the authors said.

The study appeared in the August Journal of the American Medical Association.