February 01, 2015
MedPAC will support site-neutral payment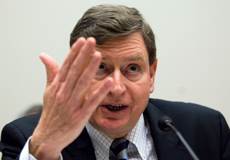 MedPAC Chairman Glenn Hackbarth
The Medicare Payment Advisory Commission voted to recommend "site-neutral" reimbursement for selected Medicare services at press time. If approved by Congress, the reimbursement shift could mean a financial windfall for many skilled nursing facilities.
Reaction to the vote fell along predictable lines. Groups representing rehab hospitals decried it, while organizations representing long-term care organizations welcomed the news.
American Health Care Association President and CEO Mark Parkinson has repeatedly stated that skilled care and inpatient rehabilitation facilities have much in common.
"A site-neutral payment system would encourage providers to offer higher-quality services in the most effective manner," he added.
MedPAC examined nearly two dozen patient care scenarios that could be affected.