June 16, 2008
MedPAC recommends reforming Medicare payment system for skilled nursing facilities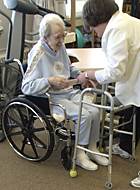 MedPAC recommends reforming Medicare payment system for skilled nursing facilities

The Medicare advisory arm of Congress has issued recommendations for reforming the Medicare payment system, including the payment system for skilled nursing facilities.

In its June 2008 report released Friday, the Medicare Payment Advisory Commission (MedPAC) said that the payment system for SNFs should incorporate a nontherapy ancillary payment component, a therapy payment component, and an outlier policy based on exceptionally high ancillary costs per day. Such changes "better calibrate payments for stays that incur these costs," MedPAC said in a release. It also recommended that CMS require SNFs to report on patient diagnoses, services use during the SNF stay, and nursing costs.

Besides skilled nursing facilities, the MedPAC report also offered reform recommendations in the areas of primary care and care provided around a hospitalization. A reformed payment system should pay for care spanning provider types and time and "hold providers accountable for the quality and cost of that care," MedPAC said.