December 13, 2015
MedPAC recommends nursing home payment rate freeze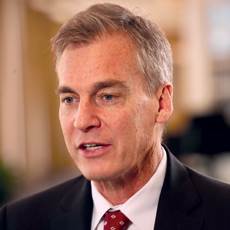 MedPAC's recommendation is "frustrating," Parkinson says
The Medicare Payment Advisory Committee provoked the ire of skilled nursing providers after recommending Congress freeze market-basket updates for facilities for fiscal years 2017 and 2018.
In its draft recommendation, discussed in a meeting last Thursday, MedPAC pushed for the payment rate freeze, citing a level of Medicare payments to SNFs that "remains too high."
The group's draft also recommends that the SNF prospective payment system be revised, due to differences in Medicare margins that reflect the "systematic biases of the PPS that need to be corrected." Those biases include PPS' continued favor of therapy over complex care, and a wide variation in margins that reflects patient selection, service provision and cost control, MedPAC said.
Policymakers need to better appreciate the "additional financial challenges providers face" when creating an efficient Medicare payment system, American Health Care Association President and CEO Mark Parkinson said in a statement opposing MedPAC's recommendations.
He wrote that "it was frustrating to see that the Commission's final meeting of the year spent more time dwelling on fee-for-service margins than placing them in their appropriate context."
LeadingAge did not have specific comments on the recommendation by press time Friday, but told McKnight's in a statement that the group does not support "across-the-board reductions in payment."
"LeadingAge is committed to a payment system that recognizes the importance of paying for high quality care for individuals with complex care needs," the statement read.
MedPAC commissioners showed support for the SNF draft recommendations, but gave no word on whether it would come up for a formal vote in January, according to Bloomberg BNA. Although MedPAC may formally recommend the policy to Congress, lawmakers are not obligated to take action.
Other MedPAC recommendations, including a freeze to hospice payments and a cut to Medicare Advantage reimbursements, have been slated to be voted on in January and presented to Congress in March.