December 14, 2009
MedPAC may recommend freezing Medicare payments for skilled nursing facilities for 2011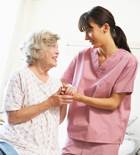 MedPAC may recommend freezing Medicare payments for skilled nursing facilities for 2011
The Medicare Payment Advisory Commission in a preliminary draft has recommended that skilled nursing facilities not receive a Medicare payment increase for 2011.
The official recommendations are not anticipated until after the new year, but officials offered their suggestions last week in a meeting. Other draft recommendations from the commission include a 1% payment update for physicians and a 1.2% update for hospice care. Hospitals would see a full market-basket update. Congress typically has not implemented MedPAC recommendations regarding nursing homes in recent years. Certain proposals in the ongoing healthcare debate would create a stronger MedPAC agency that would be able to act on its recommendations.
In other news from the capital, the House of Representatives has approved the fiscal year 2010 omnibus spending bill. The package includes $498 million for the health professions workforce program and $244 million for nurse training.