December 01, 2012
MedPAC: Cut therapy caps 33%, hike audits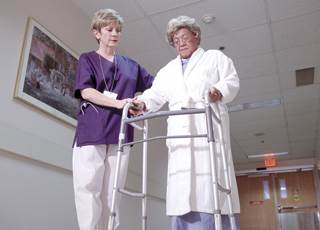 MedPAC: Cut therapy caps 33%, hike audits
The Medicare Payment Advisory Commission has recommended that Congress drop the annual allowable limits for Medicare Outpatient Part B payments by one-third. It would mean caps at $1,270, down from $1,880.
The advisory group to Congress voted unanimously the first week of November to reform the limits. One cap is for occupational therapy, and the other is for physical and speech-language therapy combined. Most skilled nursing residents are currently shielded from the caps under an umbrella exceptions process, but that provision is set to expire at the end of the year.
MedPAC also recommended the introduction of a manual medical review process for all requests that exceed one of the caps; permanently including services delivered in hospital outpatient departments under the caps; and reducing the practice expense payment by half when multiple therapies are provided to the same patient on the same day.
MedPAC has to give suggestions on outpatient therapy changes to Congress by June 15, 2013.