November 05, 2015
MedPAC begins working on unified post-acute pay plan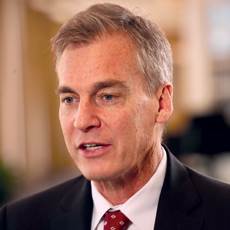 AHCA's Mark Parkinson is in favor of site-neutral payments.
The Medicare Payment Advisory Commission is devising a plan that would pay skilled nursing facilities, inpatient rehabilitation facilities, home health agencies and long-term care hospitals under a unified prospective payment system.
The proposed system would be split into two models: one for skilled nursing facilities, rehab facilities and long-term care hospitals, which would include an add-on for non-therapy ancillary services such as ventilator services and drugs, and one for home health agencies, which wouldn't be paid for ancillary services.
Concerns include: The plan isn't "unified," and it's debatable whether payment rates should be based on a beneficiary's health conditions, compared to the type of facility where they received treatment.
While MedPAC hammers out a plan Congress wants to see by June 30, 2016, the efforts are stimulating frank discussions across post-acute sectors at the center of the debate.
The mandate for MedPAC to design and build one unified payment plan comes from the "Improving Medicare Post-Acute Care Transformation (IMPACT) Act," which AHCA President and CEO Mark Parkinson says he hopes "will standardize assessments for critical care issues across the spectrum of post-acute care providers."
Parkinson asserts that assessing improvement in areas such as functional outcomes, pressure ulcers and dementia goes a long way toward improving the health and well-being of long-term care residents.
Some observers also believe that the legislation lays the groundwork for major payment reform, with the ultimate goal of creating a site-neutral payment system for post-acute care.