September 01, 2014
Medicare rates will increase 2% in 2015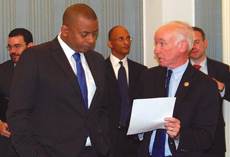 Rep. Joe Courtney (D-CT) (right) has pushed for better Medicare rates for SNFs.
When is a meager pay hike viewed as welcome news? When the source of that increase — namely, the federal government — seems intent on making cuts almost everywhere else.
That's the lesson many long-term care providers are taking from the plan to increase Medicare payments by 2% in 2015. Facility reimbursements through the program are projected to rise cumulatively by $750 million.
The Centers for Medicare & Medicaid Services pegs each year's payment rate to the costs of goods and services needed to provide care, when considering inflation. The 2015 rate would derive from a 2.4% market basket update reduced by 0.4% after required adjustments, CMS explained in a proposed rule.
American Health Care Association President and CEO Mark Parkinson commented that his 11,000 members are "pleased" with the adjustment.