June 06, 2008
Medicare, Medicaid cuts delayed ... for now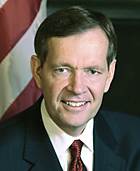 HHS Secretary Michael Leavitt

Both the House and Senate this week narrowly approved a non-binding $3.1 trillion federal budget resolution that will not contain cuts to either Medicare or Medicaid. The resolution does not solidify a budget, but sets future budgetary guidelines for Congress to consider when the Bush administration vacates Washington in January. The next president will have the final say over any proposed Medicare or Medicaid budget cuts.

At the same time, a strongly worded letter to Health and Human Services Secretary Michael Leavitt from lawmakers in both houses of Congress calls on him to stifle any further calls for a $770 million pruning of Medicare funding. If the Centers for Medicare & Medicaid Services moves forward with the proposed cuts, "high-quality skilled nursing care for America's seniors will be threatened," the letter reads.

Each chamber is creating its own version of the letter expressing discontent with the cuts, which would affect Medicare Part A reimbursements to nursing homes. The American Health Care Association praised the lawmakers' efforts, saying their actions reflect a growing public opposition to the cuts.