July 20, 2010
Medicare fraud crackdown yields more than 30 arrests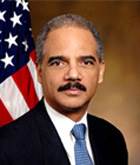 U.S. Attorney General Eric Holder
An ongoing, multistate healthcare fraud investigation has led to more than 90 individuals being accused of defrauding Medicare of more than $251 million.
The arrests occurred in Miami, FL; Baton Rouge, LA; Brooklyn, NY; Houston, TX; and Detroit, MI. Among the 94 doctors, nurses and others who have been linked to billing Medicare for millions of dollars worth of medical equipment, physical therapy services and HIV treatments that were never delivered to patients, 36 were arrested. The sweeping raids were conducted as part of the new Health Care Fraud Prevention & Enforcement Action Team (HEAT) initiative, and involved roughly 360 agents, The Associated Press reported.
The announcement of the arrests came at a joint Justice Department and Department of Health and Human Services summit in Miami on Friday. Attorney General Eric Holder and HHS Secretary Kathleen Sebelius, along with a wide array of federal, state and local partners, beneficiaries, providers, and other interested parties met to discuss innovative ways to eliminate fraud within the U.S. healthcare system, according to a DOJ/HHS statement.