September 05, 2016
Medical plastics viewed as the next frontier for recycling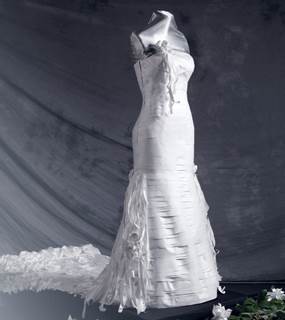 The "Bella the Bride" wedding dress was made from plastic packaging and exhibited in New York.
Healthcare facilities turn out nearly 30 pounds of waste per day per staffed bed. What if that trash could be made into something beautiful?
Beacon Converters and DuPont Protection Solutions explored that possibility this spring, commissioning a wedding dress made entirely from used Tyvek medical packaging.
The dress went on display at the Medical Design & Manufacturing East Expo last summer, its 400 flowers hand-crafted from the high-density material that serves as a sterile barrier on everything from replacement knees to IV tubes.
The idea is to get healthcare providers thinking about how they can remove this significant contributor from the waste stream, said Marc Bandman, marketing manager, Americas, DuPont Medical & Pharmaceutical Protection.
The American Hospital Association reported last year that medical facilities generate 13,500 tons of waste per day.
Many long-term care facilities have made recycling a part of broader sustainability initiatives, with residential programs and waste disposal contracts that turn food waste into compost for nearby farms.
Plastics could be the next frontier. Cost benefits (including possible volume discounts by trash haulers) and the logistics of segregating those products are two factors to consider.
The Healthcare Plastics Recycling Council offers a toolkit at http://www.hprc.org/#!hospicycle/c1fty. Though designed with hospitals in mind, information on recyclable products applies to a range of providers.
The organization acknowledges challenges abound, especially availability of haulers, choosy recyclers, and space and staffing logistics.
HPRC is currently working to recycle 100 tons of medical plastics that include sterilization wrap, irrigation bottles, basins and other materials.