July 14, 2017
McKnight's Technology Awards' deadline extended until July 28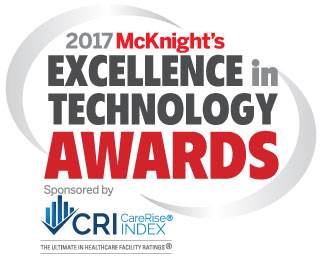 McKnight's Excellence in Technology Awards' deadline has been extended two weeks
The deadline for the 2017 McKnight's Excellence in Technology Awards has been extended two weeks until Friday, July 28.
Long-term and senior care providers can enter to win Gold, Silver and Bronze awards. Categories include: 1) Quality Through Technology, 2) Dignity Through Technology, 3) High Tech/High Touch, 4) Innovator of the Year and 5) Transitions.
To download an entry form, click here.
Winners will be announced in the fall, and they will be highlighted in a McKnight's Long-Term Care News' feature. Past winners have included facilities using robotic animals, interactive memory care software and telehealth initiatives.
This is the fifth year of the free program. This year, CareRise INDEX is the exclusive sponsor.
For more information on the competition, click here.