March 14, 2018
McKnight's Online Expo starts this morning!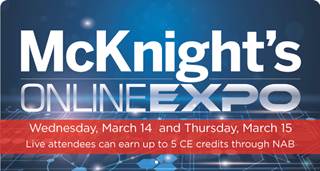 McKnight's Online Expo
Today marks the beginning of the 2018 McKnight's Online Expo, a free opportunity to hear from leading experts on regulatory and payment changes, wound care and other hot topics.
The sessions get underway at 11 a.m. ET, when Leah Klusch, RN, BSN, FACHA, tackles "Operations strategies for surviving regulatory, payment and database changes." Among other things, Klusch, the founder of the Alliance Training Center, will share strategies that clinical and operational professionals can use to manage changes to the Medicare Part A payment systems.
Registered attendees can earn one continuing education credit per session, for a total of five over the next two days. Today's other presentations focus on wound care (at 1 p.m. ET) and telehealth (at 2:30 p.m. ET).
To register, click here. All events and CE credits are free.
The online expo also features a virtual networking tool and opportunities to see the latest offerings, research and buyers guides from long-term care vendors.
Come back tomorrow for the final two presentations on emergency preparedness and an insider session on capital funding.