November 01, 2013
McDermott targets the 'three-day rule'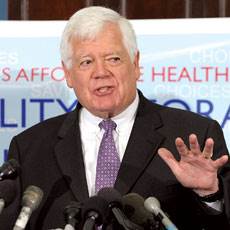 Rep. Jim McDermott (D-WA)
Rep. Jim McDermott (D-WA) has introduced legislation that would eliminate a major hurdle to rehabilitation care and payments: the "three-day rule."
Currently, Medicare will not cover the time residents spend in a nursing home after a hospital stay unless they were hospitalized as inpatients for three days.
Under the "Fairness for Beneficiaries Act," a physician would simply need to certify that a resident requires skilled care, regardless of prior time as an inpatient.
The pro-provider measure also includes protections against fraud, waste and abuse. It retains the current requirement that all skilled nursing care must be deemed medically necessary in order for patients to access the Medicare Part A benefit.
In addition, the measure calls on HHS Secretary Kathleen Sebelius to develop a "uniform set of criteria to support medical necessity determinations."