April 16, 2008
McCain says he would trim Medicare drug benefit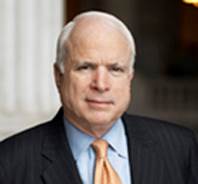 Sen. John McCain (R-AZ)

Sen. John McCain (R-AZ), the presumptive Republican nominee for president, said he would call for a partial rollback of the new Medicare Part D drug benefit if elected.

McCain said forcing wealthier seniors to pay higher Part D premiums, just as they do for other parts of Medicare, also would be on his agenda. It would be part of a broader effort to strengthen the federal budget, he said. A top advisor said McCain's Part D tweaks would save "billions of dollars" alone. McCain voted against adding the Part D program, despite it being a major plank of President Bush's platform.

A Democratic National Committee spokesman dismissed McCain's plans as campaign "rhetoric" and "out of date and out of touch." Advisers say McCain will speak about his plans in detail before Tuesday's presidential primary in Pennsylvania.