August 05, 2016
Make it a clean sweep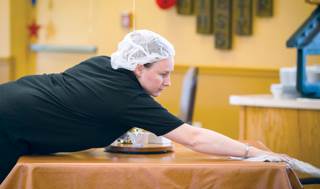 All high-touch surfaces, including dining areas, should be cleaned and disinfected on a regular basis, experts advise.
Although they are typically at arm's length from residents, and in many instances virtually invisible, housekeeping and laundry operations always will be crucial aspects of nursing home care. Missteps can be costly, especially during survey time.
Jim McLain has a front-row seat to the problems and challenges that confound nursing home staff charged with keeping the physical "stuff" cleaned, repaired and maintained.
"Over the past 20 years, our office has received hundreds of telephone calls and inquiries from panicked managers who've been cited for facility violations in their annual state surveys," says the general manager of the Eldercare Interiors Division for Construction Specialties. Many of the calls come from people who, like their clinical counterparts, are constantly challenged by a regulatory world in constant flux and stressed by the anathema of an inspector's black mark.
"The Centers for Medicare and Medicaid Services does not take these violations lightly – nor privately," McLain ominously notes. "In today's climate of full transparency and open-record laws, many administrators and facility managers are surprised to learn that Medicare.gov provides real-time disclosure of their survey results through Nursing Home Compare lists, which can be both embarrassing and costly to the reputation and bottom line of today's operators.
"While survey results and deficiencies vary by frequency and severity, this is a list enterprising and conscientious housekeeping managers do not want to be on," McLain adds.
Recent studies show that the odds are not in their favor. In fact, a typical nursing home has a 1-in-5 chance of being cited for a facility-related deficiency. To McLain, those are bad odds, considering how easily and affordably most of these deficiencies can be prevented or remedied.
What to focus on
The Occupational Safety and Health Administration has hinted at tweaking its bloodborne pathogen standard to stay ahead of new, tougher strains of bacteria and viruses. For housekeeping and laundry departments, such efforts could change the way textiles are cleaned and handled, the kinds of disinfectants used in public and residential areas, and the personal protective equipment required of workers in both areas.
CMS F-Tag 441 is the interpretive guideline for infection control programs for long-term care facilities, notes Joel Rich, director of long-term care and alternate care for PDI Healthcare.
"This document is used for guidance by the surveyors to investigate compliance to Tag F441 for every initial certification and recertification survey, as well as during complaint investigations related to infection prevention and control deficiencies," he added.
Infection control concerns are front and center in nursing homes. And no wonder. As CMS' most recent F-Tag 441 revisions note, a typical resident can expect as many as four facility-acquired infections per year. All told, infections account for up to half of all nursing home resident transfers to hospitals. Everything is under greater scrutiny from within the regulatory community and beyond. For example, Practice Greenhealth recently warned providers that "new technologies, including adding antimicrobial agents to furniture and interior products, are being promoted to help address this pressing problem [of healthcare-acquired infections]." The organization stated that "evidence supporting both the efficacy and safety of these new technologies is insufficient and, in some instances, of low quality."
"Infection control must be the new mantra when looking at processing laundry," observes Dan Goldman, OPL national sales manager for Laundrylux. To Goldman, simply staying abreast of emerging pathogens will be the biggest challenge, particularly for laundry staff.
"Hand washing, ozone processing, sending the laundry out, liberal use of chlorine bleach are not the answer," Goldman adds. "Healtcare-acquired infections will continue to rise as the population of baby boomers continues to rise. The problem is not whether you killed the superbugs in the wash cylinder, but rather cross-infection from one resident's bed to another."
The issue is serious enough to wind up on some prominent lists, including the top 10 most common nursing home survey violations compiled by ProPublica, an independent news organization. In fact, the top two items on that list, accident hazards and ineffective infection control programs, respectively, are both in the wheelhouse of housekeeping and laundry operations.
Brandi Whiteley, director of clinical services for E-Mist Innovations, believes regulators will continue tinkering with the rules.
"Looking ahead, there are new regulations that are coming online from CMS and must be integrated by 2018," says Whiteley. "Part of these regulations state that the facility must designate an Infection Prevention and Control Officer [IPCO] and have an Infection Prevention and Control Program [IPCP]."
Also of note in the survey regulatory area are revisions to the Life Safety Codes (LSC) and National Fire Protection Association codes, according to Stan Szpytek, president of Fire and Life Safety Inc., and a career firefighter.
"The landscape changed May 4 with CMS finally adopting a new edition of the life safety code," Szpytek said recently. "This most profoundly affects nursing homes."
Among the changes to the LSC, which updates the current 2000 rules to the 2010 and 2012 versions, are alterations to the allowable numbers of hand hygiene auto dispensers and higher allowable volumes of waste containers outside protected areas. The changes took effect July 5.
Struggles ahead
So many of the challenges laundry workers face are not of their doing. For example, Szpytek noted one incident resulting in $500,000 in damages after microfiber mop heads placed in plastic bags spontaneously combusted after being removed from a commercial dryer.
Compliance challenges are ubiquitous. For their part, many laundry and housekeeping managers are guilty of poor documentation of maintenance, testing and inspections; ineffective or poorly conducted emergency drills; complacency; continued ignorance of "unsafe practices" like crowded egress; and "sub-par or minimal" staff training, he added. But their biggest offense is simply not having "a culture of safety."
Inspection hot spots
The following are survey areas generating high numbers of violations and deserving of extra attention, experts say.
• Effective policies and procedures. "Surveyors are looking for a reliable process that can be repeated on a daily/weekly basis to ensure proper cleaning and disinfecting is taking place," says E-Mist's Whiteley.
Mike Weber, a principal scientist in Procter & Gamble Professional's Products Research division, agrees.
"The lack of key written procedures, including procedures for outbreak communication and response, is big," he says. "Document everything that is done routinely, in simple procedural format form. It doesn't need to be complex, and it doesn't need to be perfect, as it will never cover every possible scenario."
In addition, facilities would do well to create a protocol for outbreak response, reapplying the same procedure documents to procedures such as terminal room cleaning, isolation room cleaning and isolation laundry protocol, he adds. Hand hygiene compliance is another hot spot.
• Employee awareness. "It's no overstatement. I'm hearing this is becoming a huge issue in surveys," Weber says.
Surveyors are now expecting non-supervisory employees to thoroughly answer tough questions on the spot about hand hygiene and proper glove procedures, as well as laundry separation, handling and storage, to name a few. Weber advises managers to prominently post signage throughout work areas, reminding staff of important policies and procures.
"Employees can use these ongoing as a reference, and they can merely point to the signage during an inspection interview," he says.
• High-touch areas. "It is also imperative that the facility's environmental services or housekeeping department work in conjunction with clinical staff to ensure that all high-touch surfaces are being cleaned and disinfected on a regular basis, especially the furniture in the rooms," Rich says. These areas include tables, bedrails, bedside tables, headboards, lifts and chairs.
• Proper cleaning of medical devices. Special care is needed, and training for following manufacturer's guidelines is critical.
"Improper blood-glucose monitor cleaning and disinfection is one of the most commonly recognized reasons for receiving an F-Tag 441," says Susan Burns, medical science liaison for PDI Healthcare. "Any lancet and/or other blood collection tool(s), such as dipsticks, can never be placed back into use. Shared blood glucose monitors must be approved for multiple use and have manufacturer directives for disinfection after each patient's blood exposure to the monitoring device."
In addition, all surfaces near the patient should be cleaned after each blood collection and disinfected whenever there is visible blood or other potentially infectious material on these surfaces. Other devices, according to Rich, include blood pressure cuffs, walkers, wheelchairs, pulse oximeters and stethoscopes.
He urges managers to standardize on disinfection products as one way of increasing use and having consistent practices.
• Storage and labeling. "Ensuring products used are not harmful, are properly identified and safely stored is a target," says Whiteley. Clean linen handling, storage and control is another "hot button in some areas due to recent handling related outbreaks," adds Weber. Facilities are frequently cited for failing to ensure soiled linens are treated and disinfected properly and kept completely away from clean ones in storage.
Again, prominent signage can help remind staff about such policies, including requirements for glove changing and proper equipment disinfection between loads.
• Access to tools and cleaning agents. "Effective cleaning is becoming more of an inspection concern, although there are not very good CMS inspection criteria to help the inspector," says Weber.
Staff also must have ready access to appropriate and approved disinfectants and cleaning agents, said Burns, adding that immediate access to environmental disinfectants approved for blood and body fluid clean-up and disinfection is required by the OSHA bloodborne pathogen standard.
Ensuring survey outcomes
Experts say managers who thoroughly prepare stand much greater chances of positive survey outcomes.
In its F-Tag definitions, CMS advises housekeeping and laundry staff to conduct mock surveys to ensure their policies are in place and to identify any possible trouble areas in advance.
A variety of tools is available.
"Last week, a colleague of mine told me about an Immediate Jeopardy situation during an annual survey where the hot water temperatures were coming out of the faucets in resident rooms at greater than 120 degrees and as high as 145 degrees," recalls Patricia Howell, RN, a member of McKesson's Clinical Resource Team. "The facility did not have a system in place for hot water temperature monitoring."
That could have been avoided if the facility used CMS Quality Indicator Survey forms for auditing on a regular basis, she notes.
Goldman strongly urges laundry managers to have meaningful discussions with the Healthcare Laundry Accreditation Council, a nonprofit organization that inspects and accredits laundries that process reusable textiles for hospitals, nursing homes and other healthcare facilities.
"This is the most important call to make in anticipation of a facility review," he emphasizes.