October 29, 2010
Long-term care providers applaud GAO's call for transparency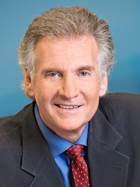 Dr. Neil Kurtz
The nursing home chain Golden Living Thursday issued a statement praising a new report that found that a concentration of private-equity firms has been acquiring nursing homes over the last decade.
Golden Living, which was purchased by the private-equity firm Fillmore Capital Partners in March 2006, operates more than 300 Golden Living centers in 21 states. Dr. Neil Kurtz, president and CEO of Golden Living, urges the Centers for Medicare & Medicaid Services (CMS) to consider making improvements in its data systems and the usability of that information, according to the statement.
The Government Accountability Office report, "Nursing Homes: Complexity of Private Investment Purchases Demonstrates Need for CMS to Improve the Usability and Completeness of Ownership Data," examines issues relating to the reporting requirements of the ownership of nursing homes. GAO recommendations should help to make the reporting process more accurate and easier to administer, resulting in greater transparency for everyone, Kurtz said.
He added that improvements in this system ultimately will lead to greater consumer understanding and awareness about ownership of skilled nursing facilities.