November 20, 2009
Long-term care advocates applaud provisions in Senate healthcare reform bill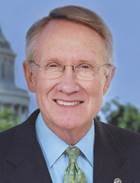 Senate Majority Leader Harry Reid (D-NV)
The American Association of Homes and Services for the Aging gave kudos to Senate Majority Leader Harry Reid and others for including the Community Living Assistance Services and Supports (CLASS) Act in the newly introduced Senate healthcare reform bill.
Reid unveiled his healthcare plan, the "Patient Protection and Affordable Care Act," (H.R. 3590) Wednesday night. Opponents of the CLASS Act provision have been railing against it in recent weeks, arguing the long-term care insurance program would actually cost more money than it saves in the long run. In its statement of support for the Senate plan, AAHSA pointed out that participation would be voluntary and the premiums will cover the costs, not placing any drain on the federal budget.
The National Center for Assisted Living also praised a provision in the Senate bill that would eliminate cost sharing for dually eligible Medicare and Medicaid beneficiaries under Medicare Part D. The Senate bill, which is estimated to cost $848 billion over 10 years, represents a merger of two bills from Senate committees. Senators are now planning to debate the bill.