May 09, 2008
Like House, Senate tries to ensure passage of Medicaid moratorium bill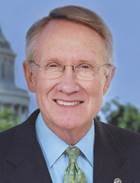 Senate Majority Leader Harry Reid (D-NV)

The Senate Thursday marked up its own version of a war-funding bill that includes a moratorium on seven unpopular Medicaid provisions. The House of Representatives attached moratorium legislation to a war- funding bill earlier this week.

The Bush administration has called the war-funding bills "must-pass" legislation, though the president has vowed to veto any bill that carries more than a $108 billion price tag. The House bill stands at $183 billion. Legislators hope that attaching the Medicaid moratorium legislation to these spending bills will help ease its passage, despite heavy opposition from Republicans and conservatives.

Meanwhile, lawmakers and advocates are concerned that the Medicaid regulations would over-stress the emergency medical system. While Health and Human Services Secretary Michael Leavitt acknowledged his concern with the country's ability to provide medical care in the event of an emergency, he said Medicaid cannot be used to fix the problem. At a hearing Wednesday, Department of Homeland Security Secretary Michael Chertoff agreed with Leavitt.