September 30, 2013
Life Care Centers of America receives top Quality honor in 2013 McKnight's Technology Awards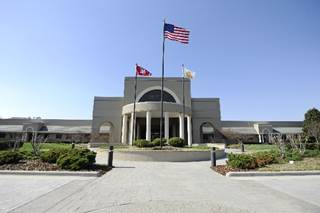 Life Care Centers of America corporate headquarters in Cleveland, TN
Life Care Centers of America has captured the top honor in the Quality category of McKnight's Excellence in Technology Awards.
The strong entries in the second annual competition proved "this field has evolved new and innovative ways to better service its customers," says John O'Connor, McKnight's editorial director.
McKesson was this year's sponsor of the competition.
Tennessee-based Life Care Centers of America developed a program that provides at-a-glance facility rankings using the company's data analytics platform. Based on information about resident conditions — such as weight loss and pressure ulcers — the system ranks facilities. Users can view facilities by region and division to easily see which need special attention and which should be singled out for praise. It is a powerful technology solution that helps ensure quality across LCCA's more than 200 skilled nursing facilities, and judges deemed it worthy of a Gold Award.
The Silver Award for Quality went to Nexion Health Management Inc., for its use of Apple's FaceTime mobile application. The app enables wound care specialists to have virtual bedside access to examine and be involved with residents. Nexion is based in Sykesville, MD, with 40 skilled nursing and rehabilitation centers in Colorado, Louisiana and Texas.
The panel of independent judges bestowed the Bronze Award to Three Links, a nonprofit operator of skilled nursing and assisted/independent living in Northfield, MN. It created a mobile computer cart to utilize Auditory Science's Interact-AS program, improving communication with residents who have difficulties hearing.
Two Certificates of Merit were given. The Campus of Anna Maria of Aurora in Ohio earned its certificate for an implementation of the COMS Interactive Daylight IQ program, improving management of residents with complex conditions. Revera Nursing and Rehab received a certificate for its Interdisciplinary Walking Care Rounds Program, which involves cross-disciplinary members of a care team and has supported the creation of comprehensive electronic medical records.
This week, the McKnight's Excellence in Technology Awards will recognize winners in the following categories:
Tuesday – Dignity Through Technology
Wednesday – High Tech/High Touch
Thursday – Innovator of the Year
Friday – Transitions