December 01, 2014
LED lights can make rooms feel expansive, suppliers say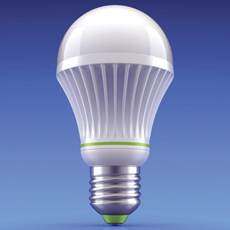 Several lighting companies have introduced new options for skilled nursing facilities.
LED lighting solutions can be a good choice for long-term care facilities or others working in challenging spaces, supply-side experts have said recently.
Acuity Brands has introduced a Canoe LED Pendant and Sconce Collection from Winona Lighting, with three options of vertical wall mount, horizontal wall mount or horizontal pendant available. Luminaires range from 30 to 54 inches in length.
Acuity also released LED flush mounts from Lithonia Lighting. The luminaires offer up to an 84% savings in energy over traditional incandescent sources, the company said.
LED flush mount products are compatible with all standard boxes and come with installation hardware, the company said.
"LED flush mount solutions are a great fit for applications such as multi-family residences, hotels and assisted living facilities because the fixtures are capable of operating 24/7 and require little maintenance," said Ryan Ramaker, director of Residential Indoor Products at Acuity Brands Lighting.
Civilight North America also introduced three lines of LED lamps in the fall, called Architectural, Professional and Commercial. Among the options is a line designed to replace halogen lights in display cases. One of the Architectural options is a dimmable lamp that replaces 60-watt incandescents.
In a different approach, The Sky Factory launched what it calls the Personal Revelation SkyCeiling, a 2' x 6' portal, meant to go above a patient or resident bed. It should relieve a sense of confinement, the company said. The Sky Factory uses large format digital compositions in modular arrays to create illusions of nature, such as blue sky with clouds.
Light remains an important issue in long-term care, wrote Home Depot consultant Michael Chotiner for
McKnight's "Marketplace Experts," and administrators can start by examining lightbulbs.
"We've got to leave it to the pros to create integrated designs for daylighting, ambient, task and emergency lighting with controls for adjusting to appropriate levels throughout the day," he wrote recently. "But awareness of the possibilities and improving light bulb selection where possible is a good way to serve those you care for."