September 13, 2016
Learn about health claims data at McKnight's Online Expo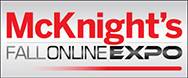 McKnight's Fall Online Expo is back Sept. 22 with a session from Robin Gelburd, J.D., from FAIR Health
Roughly 5 million Medicare beneficiaries in the United States don't take their blood pressure medication properly, according to a Vital Signs report released Tuesday by the Centers for Disease Control and Prevention.
That statistic contributes to the nearly half of older adults with high blood pressure don't have it under control, the CDC noted, leading to an increased risk of health issues such as heart disease, stroke, kidney disease and death.
That increased risk of kidney disease is mirrored in data from a FAIR Health analysis, which shows acute kidney failure as one of the top conditions leading to admission in post-acute care facilities. Incidences of kidney failure has increased just over 25% since 2007, FAIR Health found.
That and other data culled from healthcare claims that will be covered by FAIR Health President Robin Gelburd, J.D., in her presentation during McKnight's Fall Online Expo on Sept. 22. Gelburd's presentation, "Using healthcare claims to support facility decisions," will begin at 12:30 p.m. ET.
Gelburd will help attendees understand how demographics data related to healthcare claims can play a role in post-acute care settings, and be used to support market decisions based on facilities' geographic locations.
For more information and to register for the free daylong event, visit mcknights.com/fallexpo2016.