February 20, 2009
Kansas nursing home association backs Sebelius for HHS nominee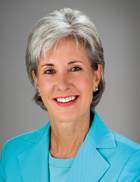 HHS Secretary Kathleen Sebelius

Kansas Governor Kathleen Sebelius (D), who has emerged as the front-runner as nominee for secretary of the Department of Health and Human Services, has earned the support of a nursing home association in her state.

"First of all, I think the world of her," Cindy Luxem, president and CEO of the Kansas Health Care Association, told McKnight's. "She has been a big supporter of home- and community-based services, but she also understands that we need to have good quality nursing homes in Kansas, and so she has been supportive of the industry in Kansas, not only in regards to issues of tort reform, but also in our reimbursement arena," Luxem continued.

Sebelius accumulated eight years experience as a Kansas state legislator, eight years as insurance commissioner and six years in the Kansas governor's house. Sebelius' bipartisan work with her predominantly Republican state Legislature is a major selling point, according to both The New York Times and Luxem.

"[Washington D.C.] is a tough place to try to herd all the cats, and she's done a pretty good job of herding all of the crazy cats we have in Kansas," Luxem says.