January 01, 2010
Kansas: Latest round of budget cuts strikes Medicaid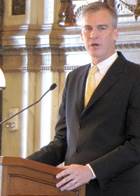 Gov. Mark Parkinson

Gov. Mark Parkinson (D) sliced $259 million more from the state budget in late November. Medicaid reimbursements were cut by 10%.

It marks the latest in a series of reductions made to the budget as the state continues to wrestle with declining tax revenue. The 2010 budget runs through June.


Nursing homes already are struggling with a freeze on Medicaid rates this fiscal year, noted Debra Zehr, president and CEO of the Kansas Association of Homes and Services for the Aging. Nursing homes soon may have to trim staffing, wages or benefits. They also likely will raise the rates for private residents.

"I think many [members] feel they have already have cut as much as they can without actually going into the things that affect quality of care," Zehr said.