November 05, 2013
Johnson & Johnson to pay $2 billion in settlement over antipsychotic drugs in nursing homes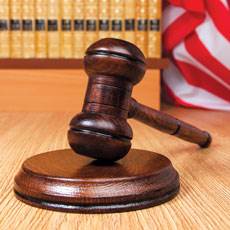 A federal judge says the appeals backlog is not "egregious."
Pharmaceuticals giant Johnson & Johnson and some subsidiaries will pay more than $2.2 billion to settle claims that they inappropriately promoted antipsychotic drugs for use in nursing homes, the U.S. Department of Justice announced Monday. The agreement is one the largest ever of its kind, and will also settle charges that the companies paid kickbacks to the nation's largest long-term care pharmacy, Omnicare.
Under the settlement, J&J subsidiary Janssen pleaded guilty to a misdemeanor criminal charge, admitting that its sales representatives pushed the antipsychotic medication Risperdal for uses that were not approved by the Food and Drug Administration. Risperdal is FDA-approved to treat schizophrenia, but a Janssen "ElderCare" sales team urged doctors and other prescribers to use Risperdal to control dementia symptoms in elderly patients, according to court filings.
Janssen agreed to pay a criminal fine of $334 million and a forfeiture of $66 million to resolve these charges, the DOJ announced.
Separate civil cases alleged that J&J and Janssen caused false claims to be submitted to government health insurance programs by marketing Risperdal for off-label uses, specifically for elderly nursing home residents, children and people with mental disabilities. The companies manipulated research to downplay Risperdal's role in increasing seniors' risk of stroke, a complaint states. The companies allegedly marketed Risperdal aggressively to long-term care residents between 1999 and 2005, and engaged in inappropriate marketing of another antipsychotic drug, Invega, from 2006 to 2009.
J&J and Janssen agreed to pay nearly $1.4 billion to settle these civil charges. Unlike in the criminal matter, J&J has not admitted any wrongdoing related to the civil cases. The company "expressly denies" these allegations, some of which originated nearly 10 years ago, according to a statement released Monday by Johnson & Johnson.
The kickback charges state that J&J and Janssen paid Omnicare consultant pharmacists to recommend Risperdal for use in nursing homes. The kickbacks were disguised as "grants," "educational funding" or other types of payments, according to the DOJ. Omnicare paid $98 million in a 2009 settlement related to these charges. J&J and Janssen agreed to pay $149 million as part of the deal announced yesterday.
J&J will take part in a five-year corporate integrity agreement as part of the agreement, which also involves claims related to a heart failure drug. The settlement funds will be distributed among the federal government, 45 states that are involved, and a number of individual whistleblowers who brought False Claims Act charges.
The agreement culminates years of negotiations, which at one point appeared to have resulted in a settlement of about $1 billion. That deal was overturned after some prosecutors said the amount was inadequate, according to The Wall Street Journal.
The massive settlement marks another milestone in ongoing efforts to reduce the prevalence of antipsychotic medications in nursing home dementia care. Long-term care operators are making significant strides in this arena, recent figures showed.