December 01, 2013
J&J settles antipsychotics cases in historic $2.2B deal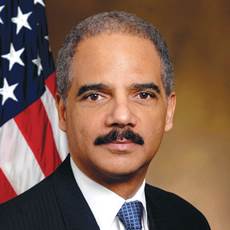 U.S. Attorney General Eric Holder said J&J's "shameful" practices harmed nursing home residents.
Pharmaceuticals giant Johnson & Johnson and some subsidiaries will pay more than $2.2 billion to settle claims that they inappropriately promoted antipsychotic drugs for use in nursing homes. The agreement also will settle kickback charges related to the nation's largest long-term care pharmacy, Omnicare.
The settlement is one of the largest ever of its kind, according to the U.S. Department of Justice. U.S. Attorney General Eric Holder announced details of the deal at a Nov. 4 press conference.
Under the settlement, J&J subsidiary Janssen Pharmaceuticals pleaded guilty to a misdemeanor criminal charge, admitting that sales representatives pushed the antipsychotic drug Risperdal to control dementia symptoms in elderly patients. This is not approved by the Food and Drug Administration.
Separate civil cases alleged that J&J and Janssen caused false claims to be submitted to government health insurance programs by marketing Risperdal and a similar drug, Invega, for off-label uses. The companies also manipulated research to downplay Risperdal's role in increasing seniors' risk of stroke, a complaint states.
Unlike in the criminal matter, J&J has not admitted any wrongdoing related to the civil cases. The company "expressly denies" these allegations, according to a statement released by Johnson & Johnson.
The kickback charges state that J&J and Janssen paid Omnicare pharmacists to recommend Risperdal for use in nursing homes. Omnicare paid $98 million in a 2009 settlement related to these charges.
J&J will take part in a corporate integrity agreement as part of the deal. The settlement funds will be distributed among the federal government, 45 states and individual whistleblowers.
An initial settlement fell through after prosecutors said the $1 billion amount was inadequate, according to The Wall Street Journal.