September 30, 2014
Jewish Home Lifecare named Innovator of the Year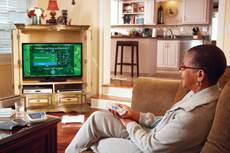 Jewish Home Lifecare's use of the Panasonic Home Gateway earned top honors.
Editor's Note: The image accompanying this article has been updated. The building in the original photo was not affiliated with Jewish Home Lifecare.
Jewish Home Lifecare won the top award in the Innovator of the Year category in the third annual McKnight's Excellence in Technology Awards competition.
JHL used Panasonic Home Gateway to connect and use patient televisions for biometric monitoring, health self-assessment surveys and education videos. Patients receive a video prompt on their television, reminding them to take their vital signs. Weight and blood pressure readings are then transmitted via Bluetooth to Panasonic's "Smartcare" portal. Patients are also asked disease-specific health questions where they can respond via television remote control. A JHL telehealth nurse monitors vital signs and query responses, and follows up accordingly.
The program targeted high-risk underserved people in New York City. The average age was 77, and the majority of participants were female. The program helped reduce hospitalizations and emergency room visits by 40%. It also achieved the highest patient satisfaction rate in JHL's history of telehealth, said Senior Vice President of Business Development Regina Melly.
"Panasonic's Home Gateway system was a huge hit with our patients. Almost all of them — 97% — reported being better able to manage their conditions, which led to an equally high percentage following their medication regimes," Melly said. The system supported high-quality long-term care management, she said.
StoneGate Senior Living in Texas took the Silver Award in the category for its work with LG CNS. The provider spent two years with the company developing a post-acute Electronic Health Records system that is intuitive and has increased staff engagement.
The Bronze Award went to Southminster in Charlotte, NC, for its use of Status Solutions' CATIE system. It has allowed the community to improve the resident experience, including self-selecting certain services, the facility noted.
A Certificate of Merit was awarded to Canterbury At Cedar Grove in New Jersey for its use of videoconferencing with Double Robotics and Apple's iPad. A Double robot places the iPad on a mobile base that can be controlled remotely.
The award program is administered by McKnight's and features a nationwide panel of independent judges. The sponsor is Tena.
The winners in each of the Tech Awards' five categories will be announced in McKnight's Daily Update this week.
Innovator – Tuesday
Transitions – Wednesday
Dignity – Thursday
High Tech/High Touch - Friday