July 14, 2014
It's not too late: Tech Awards deadline extended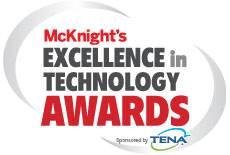 McKnight's Excellence Technology Awards 2014, sponsored by TENA
The McKnight's Excellence in Technology Awards application deadline has been extended to July 30.
Other professionals leave work early during the summer, but it just might be the busiest time of the year in long-term care. Luckily, operators now have a few more weeks to complete a straightforward application … and potentially join a prestigious group of former winners. In the first two years of the awards, providers from around the country introduced the industry to Biscuit the dog, showed the potential of cutting-edge medication dispensing and gained plaudits for a host of other tech-related successes.
Independent judges will choose Gold, Silver and Bronze winners in five categories: Quality through Technology; Dignity through Technology; the High Tech/High Touch Award; the Innovator of the Year Award; and the Transitions Award.
All winners will be featured in McKnight's Long-Term Care News later this year.
Click here for more details and to enter the contest.
TENA is the exclusive sponsor of the McKnight's Tech Awards.