August 23, 2011
Iowa department redirects funds intended for nursing inspectors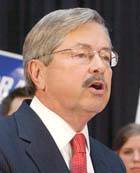 Gov. Terry Branstad (R-IA)

Iowa's Department of Inspections and Appeals, which lobbied for funds to restore 10 nursing home inspectors, has said it will use an awarded $650,000 elsewhere.

In February, Gov. Terry Branstad (R) cut 10 of the state's 38 nursing home inspectors after appointing a new department head, Rod Roberts. The agency pushed for the money to re-hire these inspectors.

State lawmakers agreed, and allocated funding, but did not specify that the money had to be used for inspectors' salaries. The Inspection and Appeals spokesman, David Werning, told The Des Moines Register that nurses are conducting some inspections instead of program coordinators, and that there was not a need to restore the 10 positions.

"The bureaus that deal with long-term care facilities -- the nursing homes -- are, right now, probably about 50% ahead of their workload," Werning told the paper.

Two-thirds of the $650,000 will instead be used for the general operation of the department's Health Facilities Division. One-third of the $650,000 will be dedicated to increasing oversight of the 188 residential care facilities for disabled individuals.

Nursing home resident advocate John Tapscott, a former state lawmaker, called the decision "an outrage."

"This just goes to show you that it's the nursing home industry that is running our state inspections department," he told the Register.