March 24, 2017
Innovative partnerships can end 'silo' approach, Kramer predicts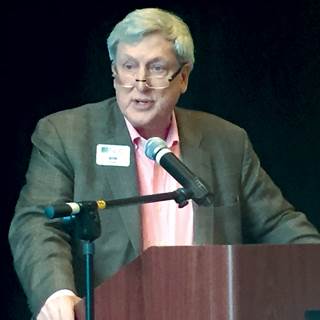 Kramer speaks at NIC's spring forum in San Diego.
SAN DIEGO — New partnerships connecting operators with other supportive services may finally end the silo-based approach that has dominated eldercare services in recent decades. So claims Robert G. Kramer, founder and CEO of the National Investment Center for Seniors Housing & Care, who spoke Thursday at the group's 2017 Spring Investment Forum in San Diego.
These new arrangements will be key to better care at lower costs, Kramer said.
Juniper Communities was touted as one organization that is leading the way. An independent analysis of its Connect4Life model found that the program resulted in 50% lower inpatient hospitalization rates, more than 80% lower readmission rates and 15% lower emergency department use for residents, compared with Medicare beneficiaries who did not live in Juniper communities but had similar conditions, said Lynne Katzmann, Ph.D., founder and president of the Bloomfield, NJ-based company. The analysis was conducted by Anne Tumlinson, an independent researcher.
The firm's unique model integrates onsite primary care, pharmacy and lab services with social supports and residential care. The company began developing the model in 2012 "to extend length of stay for existing residents and to differentiate our product from our competitors so that ultimately we could increase our market share," Katzmann said.
"Unlocking New Value Through Senior Care Collaboration," is the theme for this year's NIC spring forum, which runs through Friday.