March 04, 2015
Industry warily eyes funding adjustments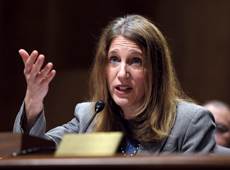 HHS Secretary Burwell says alternative pay models will rely on how well providers care for patients.
Long-term care leaders have mixed feelings about a first-ever federal timeline for more bundled and other alternative payments, calling it "a good thing" but also "aggressive."
Health and Human Services Secretary Sylvia Mathews Burwell announced Jan. 26 that 30% of traditional Medicare benefits should be paid through accountable care organizations, bundled payments or other alternative models by the end of next year. The level, which is now around 20%, should reach 50% within three years, she added. The moves promote quality-based models and discourage fee-for-service.
American Health Care Association President and CEO Mark Parkinson said the group would work with stakeholders toward "the administration's aggressive goals," hopefully "without sacrificing access to high-quality skilled nursing care."
"What we have today is in need of repair," he observed.
Added AHCA spokesman Greg Crist:"We truly believe there can be some great outcomes on behalf of seniors on this."