August 16, 2010
Improved Medicare Part D drug coverage leads to rise in antibiotic use, study finds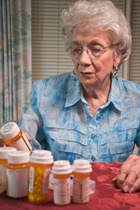 Improved Medicare Part D drug coverage leads to rise in antibiotic use, study finds
Antibiotic use by seniors has increased as a result of better drug coverage under the Medicare Part D drug program, according to a study by the University of Pittsburgh Graduate School of Public Health.
While recent changes in drug coverage have improved the use of antibiotics for pneumonia, they could lead to unnecessary spending on expensive broad-spectrum antibiotics and the overuse of inappropriate antibiotics, the study of more than 35,000 Medicare beneficiaries found. Use of brand-name and more expensive drugs, in particular, have risen as a result of Medicare Part D changes.
The study compared beneficiaries' use of antibiotics two years before and after the implementation of Medicare Part D, which reduced out-of-pocket drug spending between 13% and 23%. Researchers found that antibiotic use increased most among beneficiaries who lacked drug coverage prior to enrolling in Medicare Part D. The study will appear in the Aug. 23 issue of Archives of Internal Medicine.