March 07, 2016
'Implied' False Claims issue gets Supreme Court hearing date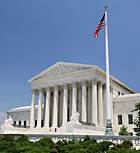 The Supreme Court will hear the case April 19
The Supreme Court will hear arguments on April 19 in a controversial case to determine what exactly makes a "false" claim under the False Claims Act.
The case, Universal Health Services Inc. vs. United States, challenges the False Claims Act's theory of implied false certification, which has been bashed by professional associations as being a "one-size-fits-all" approach to liability.
The theory assumes that providers are compliant with federal regulations when they file reimbursement claims, even if they did not state that they were compliant. Providers can be found in violation of the FCA under the theory if they didn't comply with a certain regulation — even if that regulation isn't a condition of reimbursement.
In January, the American Hospital Association and the National Association of Criminal Defense Lawyers filed briefs urging the court to reject the theory since it "lowers the bar as to what constitutes 'fraud' to include payment requests that contain no false information."
The Supreme Court's decision on the theory could help reduce litigation on certain FCA issues within the healthcare industry.