March 02, 2017
Illinois nursing home damaged by tornado, evacuated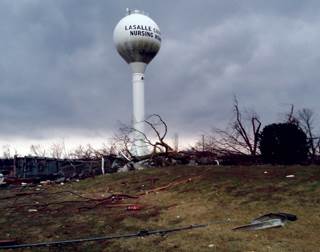 Tornado damage in the area near the LaSalle County Nursing Home. Credit: Equinox Weather LLC
Residents and staff of an Illinois county-run nursing home are safe after the facility was hit by a tornado on Tuesday.
LaSalle County Nursing Home in Ottawa, IL, was "hit hard" in the storm but was safely evacuated, with residents relocated to nearby nursing facilities and hospitals, the facility said in a series of Facebook posts. The facility itself was heavily damaged but nobody inside was seriously injured aside from some "bumps and bruises," according to local reports.
Photographs posted on Twitter by weather consulting service Equinox Weather showed the damage sustained to the facility, as well as buildings belonging to the county's transportation department.
At least three area people were reported dead after Tuesday's storms.