January 05, 2018
Illinois governor moves into vets' home with history of deadly Legionnaires' outbreaks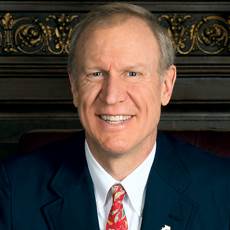 Illinois Gov. Bruce Rauner is bunking at a troubled veterans' home
Illinois Gov. Bruce Rauner (R) has checked himself into a veterans home as a show of support for the facility, which has been dogged by controversy and lawsuits following the Legionnaires'-related deaths of 13 patients since 2015.
Rauner will stay at the home in Quincy for several nights, his office confirmed Thursday.
"He plans to spend several days there with the residents and staff," Rauner spokeswoman Rachel Bold told the Chicago Sun-Times. "He wants to gain a more thorough understanding of the clinical, water-treatment and residential operations of the home."
Last month, Sen. Dick Durbin (D-IL) called for the facility's closure, characterizing the series of Legionnaires' outbreaks as a "scandal." He wanted residents moved and the building shuttered until its century-old plumbing system can be permanently fixed.
The most recent incident at Quincy was last fall, when three people fell ill with Legionnaires' and the coroner ruled an infection contributed to the death of an 88-year-old Korean War veteran.
The outbreaks were highlighted publicly last month by Chicago radio station WBEZ, which revealed 11 families are suing the state for related negligence.
The state's veteran affairs officials have said the building has the "cleanest water in the state" after they followed CDC recommendations and spent $64 million on upgrades.