October 01, 2010
How to do it... Rehabilitation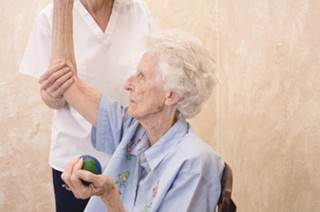 How to do it... Rehabilitation

Now that Oct. 1 has passed, the pressure is hardly off when it comes to making the most of the new MDS 3.0 resident assessment tool. In fact, some rehabilitation experts feel now is the time to start to reap the benefits of it. After all, we're talking about income and cash flow, and nobody wants to leave reimbursement on the table.

1

First of all, amid all the hubbub and concern about the new system, do not shrink away from it. It is expected that many providers will struggle for a while, and some will not maximize the way they should, experts realize. But the system is here to stay.

"Embrace it. Don't be afraid of it," says Carmen Bowman, a regulator-turned-educator with Colorado-based Edu-Catering.


2

A big help for almost any staff member could be the free VIVE video, which can be found at the Centers for Medicare & Medicaid Services website or www.pioneernetwork.net, Bowman adds. VIVE stands for "Video on Interviewing Vulnerable Elders."

"Be glad that CMS is trying to help us all hear the resident's voice," Bowman says.


3

Remain focused on new measures pertaining to the start of therapy and the short-stay assessment, says Mark Besch, vice president of clinical services for Aegis Therapies.

"Now that we're through that early transition period, it's time to really be up to speed about using these new assessments regarding the start of therapy OMRA and the short-stay assessment," Besch explains. "They're brand new, and understanding them is very important."


4

ADL scoring under the new payment schema has brought about some "pretty significant differences" about how patient abilities are registered, adds Aegis President Martha Schram. Providers have a good "opportunity to mitigate (a) potential negative," she adds.

"You need to rate them on the aspect that takes the most assistance," she notes, offering "bed mobility" as one area where inattentive evaluators could be costing their operations a lot of money.

It involves judging the ability to roll from side to side—but also the ability to move from lying down to sitting, as well as the opposite, both of which tend to be overlooked.


"That CNA better know those components of bed mobility and rate it the right way. It could mean over a $100 day per day difference in reimbursement," Schram says.

"People are really going to want to focus and refine and get better at how to do it over the first few months," she adds. "They're creators of their own destiny on this. It's an opportunity."


5

By now, providers should have some system in place to track therapy minutes into the three required reporting categories: individual, group and concurrent. Monitoring is an important activity sometimes neglected, Besch points out.

"There's a huge advantage to a provider knowing that and to what degree those minutes could be shifted from concurrent to group," he says.

6Continue to focus on therapist education, stresses Lou Ann Soika, senior vice president of customer relations and strategic development for Genesis Rehab Services. She notes that, among other efforts, her company has provided focused education on restorative nursing and, "of course, Section O" of the MDS.


Other actions have included deploying mobile devices so patients are actively and immediately involved in treatment plans.

"This is a significant change since therapists have historically recorded their notes and documentation long after the patient received treatment," Soika says.


7

Soika states another key move has been to launch an internal portal that centralizes "all of the tools and resources that have been created to achieve success." Therapists remain informed and enabled, minimizing any possible confusion.

8

Some basics remain the most important, reminds Laszlo Bayer, chief operation officer of Therapeutic Industries Inc. "Slow down the assessment process," he urges.

"Invest in your personnel," he adds. "Take care of the people who take care of you. Often times, staff personnel are treated like a commodity."