August 10, 2010
House poised to vote today on enhanced Medicaid funding bill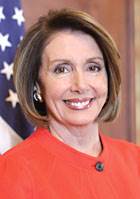 Rep. Nancy Pelosi (D-CA)
Members of the House of Representatives are expected to vote today in a special session to extend Medicaid assistance to states through the first six months of 2011.
A provision in the American Recovery and Reinvestment Act provided a temporary 6.2% bump in the federal medical assistance percentage through the end of 2010. Today's vote would extend the additional funds through June of 2011 but at a lower rate: There would be a 3.2% bump from January through March, and a 1.2% increase from April to June. Nursing home organizations have been urging Congress to approve the extension of the FMAP increase.
The Senate voted Thursday to approve the funding. House Speaker Nancy Pelosi (D-CA) called back the House from its summer recess to vote on the measure.