February 18, 2011
House budget leader talks Medicaid and Medicare reform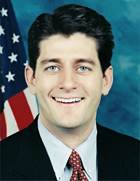 Rep. Paul Ryan (R-WI)
When President Obama released his proposed FY 2012 budget this week, he said entitlement programs such as Social Security, Medicare and Medicaid are driving U.S. debt, but his proposal lacked specifics about how to tackle reforming them.
This drew criticism from all sides, especially Congressional Republicans who have yet to present their own budget. However, House Budget Committee Chairman Paul Ryan (R-WI) told Politico this week that he thinks Congress needs to start comprehensive healthcare entitlement reform.
Ryan's plan, according to Politico, would convert the current Medicare system from its "defined benefit structure" to one in which the federal government would make contributions directly to the health plan of the beneficiaries' choice. And for Medicaid, the nation's largest source of nursing home funding, Ryan wants to switch to a system of defined direct payments to recipients.