June 28, 2011
Hospice costs questioned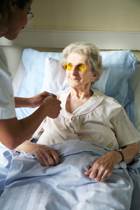 Hospice costs questioned
In the midst of debates over how to sustain Medicare, the cost of hospice has come under increased scrutiny.
Medicare's tally for hospice care jumped more than $9 billion from 2000 to 2009, The New York Times reported. More than a million Medicare patients receive hospice services each year, and the median time in hospice care is 17 days. Four in 10 Medicare beneficiaries use hospice before they die.
At the crux of the issue is that Medicare pays a per diem rate for hospice patients rather than reimbursement based on specific services. Today, 19% of patients receive hospice services for longer than six months, the Times reported, citing the Medicare Payment Advisory Commission.
However, this is partially based around who is seeking hospice, says Theresa Forster, vice president of hospice programs and policy for the National Association of Home Care & Hospice.
"It's not the same benefit offered to cancer patients that it was in the beginning," she told McKnight's. "You have such a variation in length of stay depending on when they come in and based on disease trajectory. The system will have to be sensitive enough to address variations."
Still, the worry, highlighted in a recent academic paper about for-profit versus non-profit hospices, is that hospices will seek out patients likely to live longer. Additionally, under the Affordable Care Act, the Centers for Medicare & Medicaid Services implemented a face-to-face meeting requirement between a physician or nurse practitioner and a patient after six months of hospice to affirm the patient is still terminal. The rule has been criticized for several reasons, including a lack of reimbursement. CMS announced Friday that part of the physician visit could be billable if it involves medical services.
Even if this rule is changed, government officials are taking a closer look at hospice costs for Medicare. In a 2009 report, the inspector general of the Department of Health and Human Services studied claims of hospice patients in nursing homes. The report states that 82% of hospice claims for beneficiaries in nursing facilities "did not meet at least one Medicare coverage requirement."