August 09, 2017
Hitting the 'suite' spot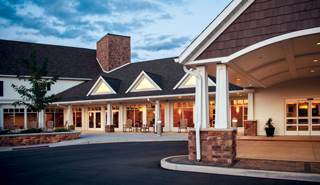 Heritage of Fort Wayne was designed with a "spaciously cozy and casual upscale feel" that includes a bistro-style food service area open to the community.
Heritage of Fort Wayne is a "living center" that aims to give its residents ample space, privacy and comfort.
The nearly $19 million community took three years to build, from groundbreaking in November 2012 to the grand opening in January 2015. The planning process took an additional year to get everything in place before construction began.
"This is not your basic skilled nursing facility with rehab component," says architect Dodd Kattman, who handled the design aspect of the project. "This community definitely takes it to the next level."
As the third Heritage community in northern Indiana, Heritage of Fort Wayne is distinctly more urban than the other two, which are located in rural areas south and southwest of the city.
"When the board of directors was thinking of expanding Heritage Communities' reach, the northeast portion of Fort Wayne, with its convenience to the city and close proximity to Parkview Regional Medical Center, was a desirable and logical place to consider," says Pat Hart, director of admissions at Heritage of Fort Wayne.
Although its location is urban, the ambience is like a resort property, she says. The grounds offer nearly a mile of paved walkways and several small lakes as part of the landscape. A clubhouse, community garden and fire pit are also alluring campus features.
The main building — known as the living center — has nearly 90,000 square feet but houses only 68 residences, "which adds to and complements the spaciously cozy and casual upscale feel that the community exudes," Hart says.
Encompassing services for long-term care, rehab and memory support, Heritage at Fort Wayne offers spacious and home-like suites with private baths and showers. Each suite has a call system that connects directly to caregiver phones, and call lights that more closely resemble porch lighting than institutional call lights.
"Because the suites are configured to have a seating area with TV, offset bedroom and private bath and shower, we find that our residents feel very much 'at home' in their suites," Hart says. "Their suites encourage company, which adds to the very high level of contentment we observe in our residents."
The Bistro is a restaurant-like food service area that offers soups, sandwiches and salads and doesn't serve just residents, but the community at large as well. The Bistro and adjacent Fountain Square porch outside are home to Friday night coffeehouse-style entertainment during the summer months.
To appeal to residents' cultural pursuits, the community has the Art Gallery, where the work of local artists is on display on an eight-week rotating basis.
The campus also has a vibrant independent living population. Villas at Heritage Lakes is a geothermal villa community comprising 56 freestanding, independent living villa homes.