February 23, 2012
HHS unveils more specifics on federal Alzheimer's initiative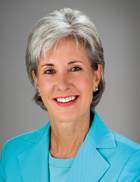 HHS Secretary Kathleen Sebelius
The federal government on Wednesday unveiled the first draft of its national action plan against Alzheimer's disease.
Building on the framework published in January, the draft released by the Department of Health and Human Services yesterday proposes the creation of registries to better direct Alzheimer's sufferers into clinical trials. The plan also calls for the establishment of a national inventory of research investments.
The national plan recommends that private partners work with government officials to formulate evidence-based guidelines for Alzheimer's care and create a national clearinghouse to publicize these guidelines.
It also proposes that healthcare entities such as medical homes and accountable care organizations be analyzed for outcomes among Alzheimer's patients. Click here to read the full national draft plan in its entirety.