April 27, 2012
HHS issues more rules to keep Medicare and Medicaid beneficiaries out of nursing homes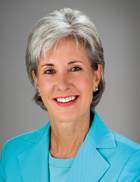 HHS Secretary Kathleen Sebelius
Federal officials have issued two more rules aimed at giving elderly and disabled individuals more home- and community-based alternatives to nursing home care.
The Centers for Medicare & Medicaid Services' final rule on the Community First Choice program enhances the federal matching rate for Medicaid by six percentage points. It also amends existing Medicaid regulations such that states can tailor a beneficiary's care to suit their needs.
According to CMS, the final rule will have an economic impact of $1.3 billion in fiscal year 2012, with federal and state shares reflecting $820 million and $480 million, respectively. This rule, which was authorized with funds from the Affordable Care Act, will go into effect 60 days after it is published in the Federal Register on May 7.
The Department of Health and Human Service also announced Thursday, as part of a proposed rule, the 16 organizations that have been chosen to participate in the Medicare demonstration project called Independence at Home. The program coordinates a range of in-home primary care services for chronically ill Medicare beneficiaries. The program is set to start on June 1, 2012, and conclude May 31, 2015.
Click here to read the final rule on Medicaid, and here to read the proposed Medicare rule.