February 25, 2013
HHS awards states $285 million to support formation of innovative care and payment models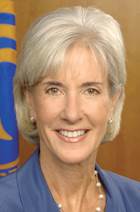 Health and Human Services Secretary Kathleen Sebelius
The Department of Health and Human Services will award $285 million for 25 states to innovate healthcare delivery and payment systems, the agency announced on Feb. 21. In many of these states, long-term care providers will take part in newly established multi-payer groups, such as accountable care organizations.
Six states — Arkansas, Maine, Massachusetts, Minnesota, Oregon and Vermont — will share $250 million of the HHS grant money. They will be charged with debuting State Health Care Innovation Plans already approved by the Centers for Medicare & Medicaid Services. Nineteen other states will receive money to continue developing their own innovation plans.
The six CMS-approved plans are all supposed to promote care coordination and have payment systems that reduce waste and inefficiency. For example, the program in Maine will establish ACOs to "support and strengthen alignments between primary care and public health, behavioral health and long-term care," according to CMS.
The State Innovation Model awards are the latest example of HHS encouraging a move away from fee-for-service toward more integrated systems of healthcare. The agency announced the formation of more than 100 new ACOs in January. This month, CMS announced more than 500 providers, including more than 165 long-term care operators, taking part in bundled payment initiatives. HHS Secretary Kathleen Sebelius recently said these efforts "are no longer isolated pilots" and represent the future of U.S. healthcare.